Half Day Rafting
Join us on the four kilometer Toyonaga stretch on the Yoshino river, one of Japans premier half day rafting courses.
We spend about 2 and a half hours on the river navigating four large rapids with another 10 smaller rapids making up the whole course. Between the rush of the rapids are big long calm pools where we can play games, challenge ourselves with a 4m rock jump and swim in the clear green waters of the Yoshino river.
Our final rapid brings us to the shores of the Happy raft base where we land and walk back to our base to view the photos and talk about our adventure.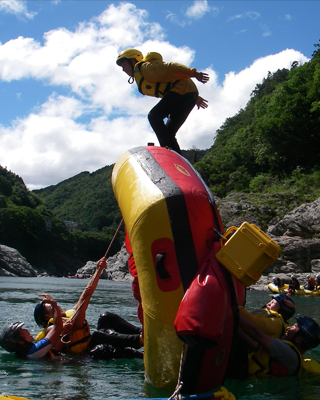 Time line of Tour
see what your day will involve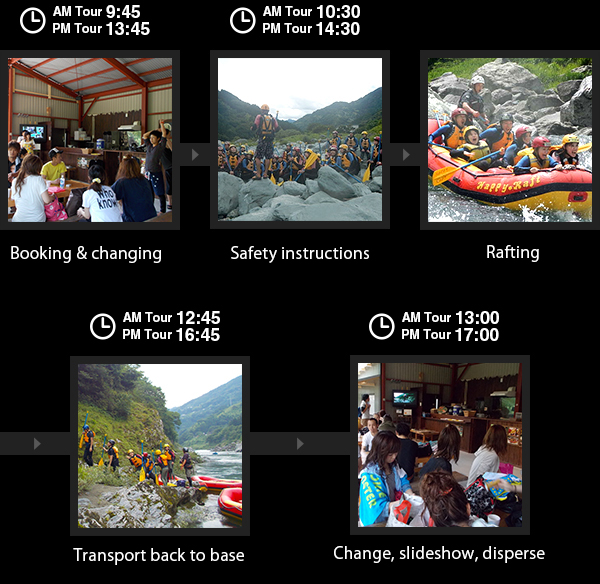 Tour Information
Half Day Rafting details
Age limits
12yrs and up(midle school), "children under 15 must be accompanied by an adult"
Cost
¥5,500(Repeter ¥5,000)

High Season ¥7,500 (repeater price ¥7,000)

※

High season dates 2016
July, 16・17・18・23・24・30・31
August, 6・7・11・12・13・14・15・20・21・27・28
September, 3・4・10・11・17・18
Tour cost
includes
Qualified rafting guide
rafting equipment(wet suit, helmet, spray jacket, life jacket, fleece, paddle
Insurance premiums
Tour season
Mid March to Mid October
Time required
3 hours
Minimum customers
2
Tour Times
9:45am or 13:45pm, start time occasionally delayed by 30min
Meeting Place
Happyraft Base >> location details
Parking
When making a booking please advise us of your transportation options so we can confirm we can accommodate your vehicle in our free parking area.
Changing rooms
Male and Female
What to bring
Swimsuit, towel, water sandals or shoes, (please no crocs as they usually fall off and get lost) ※ we have some shoes available, however numbers are limited and we can't guarantee shoes for everyone. So if you can, please bring your own.
Notes
We reserve the right to choose the safest course depending on the weather on the day. Please note alcohol induced customers or hungover customers will be refused to join for safety reasons and no refund will be given. Please refer to our
>> cancellation policy