One Day Rafting
Yoshino river, japans best rafting
on the 1 day Koboke course
Our #1 rafting tour, assist us challenging the mighty rapids of the yoshino, drifting through the pools, jumping and swimming all day long.
This is a full day experience, challenging some world class rapids through scenery only seen from the river. Come join us, bring a team and we will give you a day out you won't forget.
With our famous all you can eat bagel lunch overlooking the river surrounded by nature, its hard to beat.
Come join us and you will see for yourself.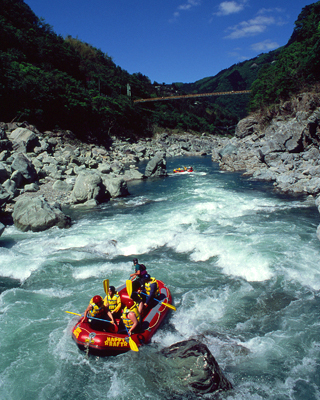 Time line of Tour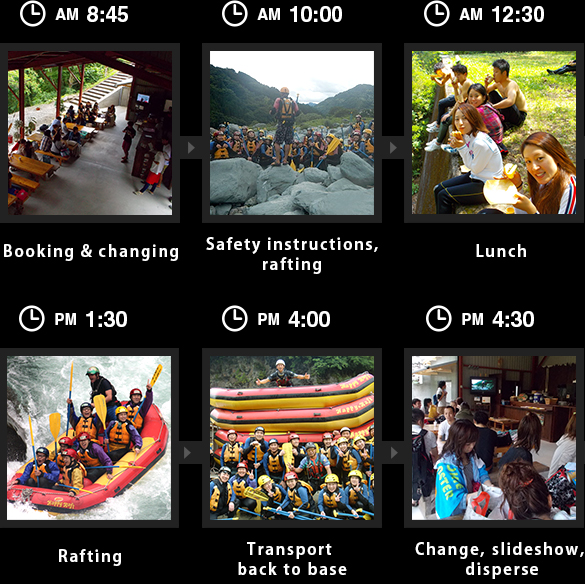 Tour Information
One Day Rafting details
Age limits
12yrs and up(midle school), "children under 15 must be accompanied by an adult"
Cost
¥10,000(return customer ¥9,000)

High Season ¥15,500 (return customer price ¥14,500)

※

High season dates 2016
July, 16・17・18・23・24・30・31
August, 6・7・11・12・13・14・15・20・21・27・28
September, 3・4・10・11・17・18
Tour cost includes
Qualified rafting guide
lunch(all you can eat bagel)
rafting equipment(wet suit, helmet, spray jacket, life jacket, fleece, paddle
Insurance premiums
Tour season
Mid March to Mid October
Time required
7 hours
Minimum customers
1
Tour Times
8:45am, start time occasionally delayed by 30min
※This is a full day tour, from about 8:45am to 4:30pm allow around 7hrs.
Meeting Place
Happyraft Base >>location details
Parking
When making a booking please advise us of your transportation options so we can confirm we can accommodate your vehicle in our free parking area.
Changing rooms
Male and Female
What to bring
Swimsuit, towel, water sandals or shoes, (please no crocs as they usually fall off and get lost) ※ we have some shoes available, however numbers are limited and we can't guarantee shoes for everyone. So if you can, please bring your own.
Notes
We reserve the right to choose the safest course depending on the weather on the day.
Please note alcohol induced customers or hungover customers will be refused to join for safety reasons and no refund will be given. Please refer to our
>> cancellation policy