Happy Guest House
ハッピーゲストハウス
Planning on coming to shikoku but have some time on your hands?
A big day of activities and not really looking forward to the 4 hour drive back home?
Come and relax at one of our Guest Houses, run by our staff, and set up for you to sit back and relax after a big day out.
Does this sound like you, then talk with us more about what you need and we will do our best to accommodate you.
The guest houses are set up with almost everything, you just need to bring yourselves, your mates, your food for the BBQ (we'll even supply the coal) and your party favorites.
Make the most of your time i the region, there are plenty of things to do around the local area, talk with us more and we can direct you in the right direction.
Pricing:
Per Night = ¥4,000 per person.
Per Night with rafting or Canyoning Tour = ¥3,500 per person.

※Price has changed since 2016.

Happy Guest House
Our most popular guest house, overlooking the Yoshino river this old Japanese style accommodation is super quiet, even hard to find quiet. Surrounded by nature and plenty of room for a whole bunch of mates if that is what you are after.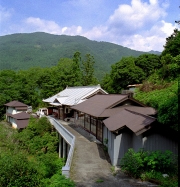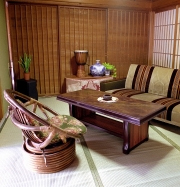 Facilities:
Bath, shower, separate male and female toilet, refrigerator, dryer, BBQ space (covered if needed).Free Wifi. Washing machine.
Kitchen utility:
Seasonings: sugar, salt, soy sauce, oil, salt and pepper, coffee
Cookware: Microwave, toaster, rice cooker, gas table, BBQ table, net, iron plate, tongs, tableware, plates, glasses,chopsticks ,flying pan, pot etc...
Amenity:
shampoo, conditioner, body soap ※ Please bring towels, toothbrush.
Check in:
4:00pm to 8:00pm(If you want come to another time,let us know please.)
Check out:
12:00pm
If your after authentic, this is the place, traditional thatched roof, this one story guest house oozes charm. Run by one of our guides, she prides herself in keeping the place clean and is constantly adding new features to the place. Like the pizza oven. Situated in the mountains the air is clean and fresh and the night sky full of stars.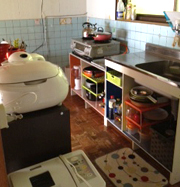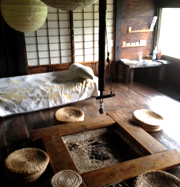 Facilities:
Bath, shower, toilet, refrigerator, BBQ space, pizza kiln (outside)
Kitchen utility:
Seasonings: sugar, salt, soy sauce, oil, salt and pepper
Cookware: General, microwave, toaster, rice cooker, gas table, BBQ table, net, tongs, tableware General, plates, glasses,chopsticks ,flying pan, pot etc...
Amenity:
shampoo, conditioner, body soap ※ Please bring, towels, toothbrush, etc..
Check in:
4:00pm to 9:00pm(If you want come to another time,let us know please.)
Check out:
12:00pm
Offering a warm family like atmosphere where nature and its wonders are abundant,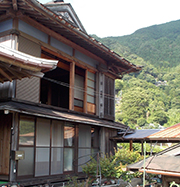 Facilities:
Bath, shower, separate male and female toilet, refrigerator, dryer, BBQ space (covered if needed)
Kitchen utility:
Seasonings: sugar, salt, soy sauce, oil, salt and pepper
Cookware: Microwave, toaster, rice cooker, gas table, BBQ table, net, iron plate, tongs, tableware, plates, glasses,chopsticks ,flying pan, pot etc...
Amenity:
shampoo, conditioner, body soap ※ Please bring towels, toothbrush, etc..
Check in:
4:00pm to 9:00pm(If you want come to another time,let us know please.)
Check out:
12:00
四国のまんなか、標高400m。
ぽっかりと浮かぶ雲のように佇む「天空の宿 晴れる屋」は、家の離れを宿としている、普段着スタイルのお宿です。
周りに民家がないので何の気兼ねもいりません。
江戸時代からこの地に住み着いて8代目の音楽好きでフレンドリーなオーナーさんがお待ちしております。
Facilities:
キッチン、リビング、お風呂、温水シャワー、男女別トイレ、BBQスペース(屋根付き)共同。
冷蔵庫、ドライヤーあります。
Kitchen utility:
調味料:砂糖、塩、塩コショウ、醤油、みりん、酒、油など
調理器具:全般、電子レンジ、トースター、ミキサー、炊飯器、BBQテーブル、網、鉄板、トング、食器全般、ラップ、アルミホイル
Amenity:
シャンプー、コンディショナー、ボディーソープ ※その他、タオル・歯ブラシ等はご持参下さい。
Check in:
16:00~20:00 (この時間帯以外をご希望の方はご相談ください)
Check out:
12:00
Other Accommodation
We have access to other accommodation options as well, follow the link here to check out our other option.
>> Click here for more